JCI Galway Tourist Guide
Brought to you by
Junior Chamber Galway.
The 47th Edition is now available
JCI Galway Tourist Guide
JCI Galway (Junior Chamber International Galway) is a voluntary, world-wide, independent,
personal development organisation for young professionals and entrepreneurs aged between 18 and 40.
About
The Galway Tourist Guide has been published by JCI Galway for nearly 60 years, between 1962 - 2020.
Galway is a medieval city steeped in history and culture, awarded the European Capital of Culture 2020. Voted the Friendliest City in the World and in 2015 ranked Europe's Micro-City of the Year.
Produced by a voluntary committee, now in its 47th edition, is the oldest and best-known project organized by JCI Galway. Up to sixty thousand copies of this guide are distributed locally, nationally and internationally each year since 1962.
Since the establishment of JCI Galway in 1961, we have served as a leadership training platform to encourage young people to be active citizens and create positive change in several areas including individual, international, community, and business.
To advertise in the JCI Galway Tourist Guide 2021, please email us with your Name, Address, Number and choose the following:
• Full Page
• Half Page
• Quarter Page


Contact Us
With around 5,000 local organisations in more than 100 nations, JCI forms a vibrant global community of nearly 200,000 young people. The collective action of all JCI local organisations forms a global grassroots movement, empowering members to run effective projects, exchange ideas and work together.
JCI encourages young people to take responsibility for local issues and find targeted, sustainable solutions that benefit our communities and the world.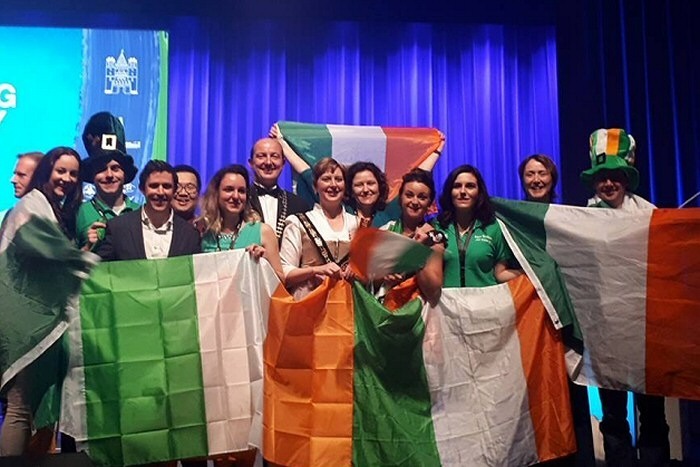 Tourist Guide 2020 (47th Edition) - Eolaí Turasóra 2020
Free of charge to tourists
60 pages, printed in full colour and digital version
Well known for its convenient A5 size, easy to carry
Online Guide linked to several web sites worldwide
Features this year include:
"City of Tribes" themed walking Tour of Galway City Centre (by Adrian J Martyn)
Scenic driving tours of the Galway area, including Connemara
Section on Oughterard, Roundstone & other County Towns
Top free things to do in Galway
'Kick the Wall' tradition
Accommodation Guide, Restaurant Guide, City Nightlife, Shopping Guide
Tours and Transport
Useful map of Galway city across two pages
Useful telephone numbers for both tourists and locals alike
Provides a comprehensive listing of events happening in Galway for the entire year.
JCI Galway Tourist Guide Snapshot
Colleen Baxter
President, JCI Galway
President of JCI Galway
#InspiredByUs
People often ask me 'What is JCI?' and there are many different answers. In my opinion JCI trains the young adults of today to be the future leaders of tomorrow.
Junior Chamber International Ireland (JCI) has been active since 1957 and is a voluntary, world-wide, independent, personal development organisation for young professionals and entrepreneurs aged between 18 and 40. We develop the skills, knowledge and understanding of our members on a personal basis but also in the community, in business and internationally.
We have 150,000 members world-wide, across 5,000 local chapters and located in 100+ countries. The shared purpose, common vision and camaraderie among JCI members is palpable. No one who's attended a European Convention or graduated from Leadership Academy would deny it.
Our national and international conventions, workshops, trainings and awards programs, everything we do, is produced and directed by our JCI boards, ran by people just like you and I.

If you feel the power of that community like I do—the power to improve places, connect people and drive prosperity—then you really ought to be a member of JCI. In 2020 we want you to be #InspiredByUs

Connect with me on Instagram, Twitter or LinkedIn or at one of our events around the country.